Cozy holiday apartments on Lake Como in a former vineyard farmhouse with pool and beautiful lake view
Whether you choose a lovingly furnished apartment or a rustico-holiday home for your holiday, all cottages and apartments of the vineyard farm Casarina are located in a unique lake view with pool and sun lounger terraces, and communal garden with pizza oven.
Casa Amarone
The sunny apartment Amarone is situated in the vineyard of the farmstead Casarina an extremely scenic location above Gravedona with stunning panoramic lake views and pool.
Casa Ribolla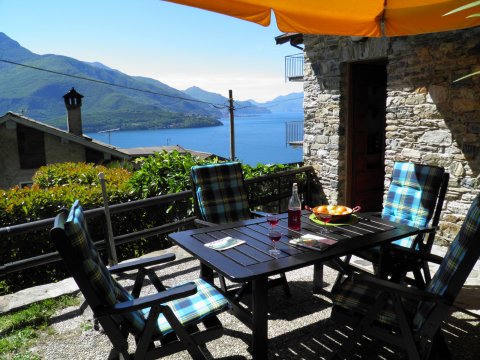 The holiday apartment Ribolla is maisonette style and located in the vineyard farmstead Casarina above Gravedona, it has a wonderful panoramic view and pool.
Casa Sangiovese
The exclusive apartment Sangiovese is located in the vineyard farmstead Casarina in a fantastic position above Gravedona with breathtaking panoramic views and pool.
» View all apartments of the vineyard farmhouse Casarina
Casarina SELECTION
Exclusive holiday homes for rent
In the Casarina SELECTION you will find other personally selected, comfortable country houses, apartments and villas,
with the award "casa carina", which means in Italian as a beautiful, pretty house.

Be inspired by our hand-picked Casarina SELECTION and discover the perfect setting for your holiday:
individual villa near the beach and of course the vineyard farmhouse on Lake Como.
Casa Alessia
The romantic holiday Villetta Alessia is situated on a slightly elevated position next to the castle of Rezzonico. Only 30 meters from the beach.